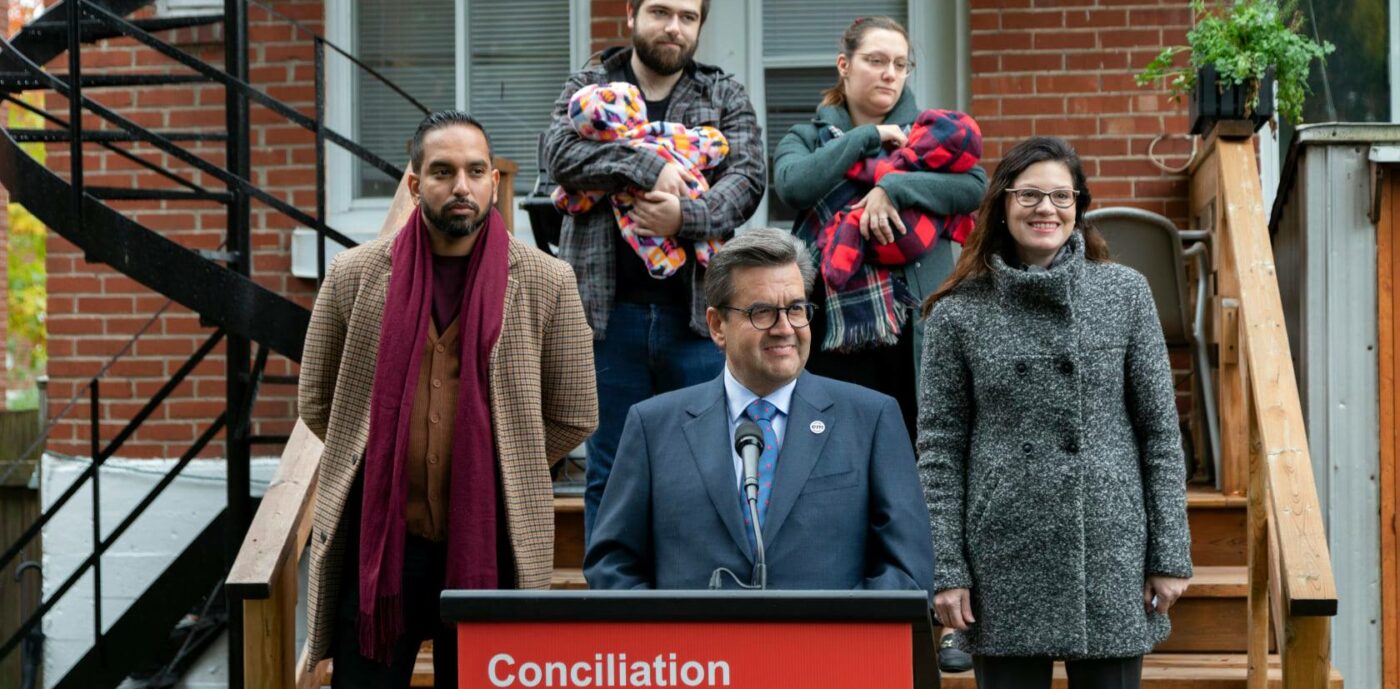 Montreal, October 22, 2021 – The candidate for mayor of Montreal and leader of Ensemble Montréal, Denis Coderre, and his team unveiled several measures to support children and seniors across the city. During a press conference held with a young family from Ahuntsic-Cartierville, the party committed to renewing and improving the Children's Policy with an investment of 35 million dollars over 5 years, of which 10 million dollars will be reserved for urban health measures.
The position of Children's Commissioner, which has been left vacant since 2020 by the current administration, will also be restored to strengthen the voice of young Montrealers. The Commissioner will have the mandate of responding to the recommendations of the Laurent Commission, rallying all government partners. Citizens will be able to count on their work to ensure that children are integrated into neighbourhood life with resources ready to listen to them and respond to their needs, particularly in terms of the safety of facilities, food security and access to arts and education.
"We will mobilize a City-wide community approach and become genuine partners to do meaningful work. Physical activity and artistic expression contribute to our development and growth. They are powerful tools, both economically and socially; antidotes to abuses, excesses, or negative trends that lead to crime. Our young people, our future leaders, have every right to see their voice represented at the decision-making level," said Denis Coderre.
Sports as prevention
Two policies aimed at young people will be put in place: one will have the objective of offering more sports infrastructures in all neighbourhoods and the other will promote sports among Montrealers. To this end, the party will invest approximately $240 million to build the long-awaited sports centres in the boroughs of Montréal-Nord, Lachine, Mercier-Hochelaga-Maisonneuve and Saint-Léonard. In order to promote the well-being and quality of life for all, Ensemble Montréal will make sports more accessible to seniors by creating outdoor training facilities like those in Quebec City or Saint-Jean-sur-Richelieu.
Furthermore, the Coderre-Gelly administration will work with the Quebec government to transfer the jurisdiction of school buildings and schools' sports arenas to municipalities. Local management would make it possible to increase offerings across the island and to meet the respective needs of the communities and neighbourhoods with diverse strategies.
"It's nonsensical that the current administration has been considering health as an expense during the last years when it is an investment in society. We are done waiting! Our team will help promote the practice of sports, an important social vector that has the benefits of preventing violence and improving self-esteem," said Josée Côté, candidate for mayor of Lachine.
Avantage Montréal: a new cultural and sports passport
In the same spirit, children aged 5 to 16 and people aged 65 and over will have access to a new cultural and sports passport called "Avantage Montréal", which will allow them to do one free activity per month. In addition, a pilot project for summer shuttles will be organized between disadvantaged neighbourhoods and Montreal museums, libraries and Space for Life Museum facilities.
"We are going to put in place winning conditions so that everyone can learn about and get to know their city. This measure will address inequalities across the island while contributing to the vitality of our cultural institutions and sports associations that have been hit hard by the pandemic," added Naveed Hussain, candidate for City Councillor in the district of Sault-Saint-Louis in the borough of LaSalle.
These measures are in addition to the party's previously announced proposals to create Arts Centres in all neighbourhoods that do not have them and to distribute free Accès Montréal cards to newcomers so they can learn about our culture and history. To read about other measures that Ensemble Montréal will put in place to support Montreal families, click here: https://ensemblemtl.org/en/program/vivre-ensemble-entre-louverture-et-la-vigilance/