Two new candidates join the Ensemble Montréal team in Côte-des-Neiges-Notre-Dame-de-Grâce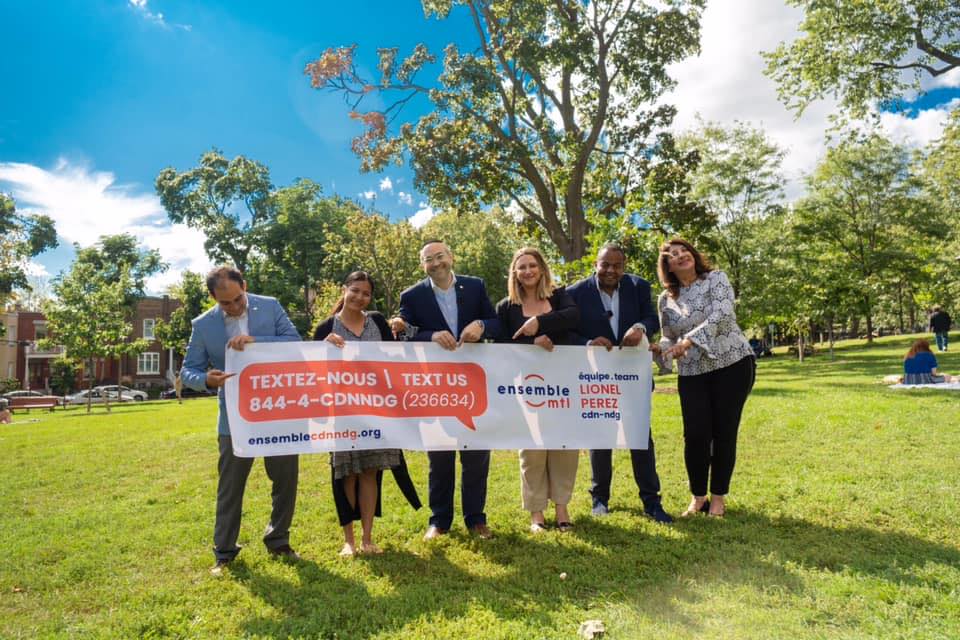 MONTREAL, July 7, 2021 – Ensemble Montréal has announced two new candidates for the November 7 municipal elections: Ashley Thornton and Dimitra Kostarides will run for city councillor in the districts of Notre-Dame-de-Grâce and Côte-des-Neiges in the borough of Côte-des-Neiges-Notre-Dame-de-Grâce. The leader of the political party, Mr. Denis Coderre, and the candidate for borough mayor for Ensemble Montréal, Mr. Lionel Perez, made the announcement this morning.
"In building the Ensemble Montréal team, we have always kept in mind the importance of representing all Montrealers, without exception. Whether it is in terms of origin, generation or life experience, it is essential that our candidates reflect the Montreal we know. I am proud of the team formed to represent the residents of Côte-des-Neiges-Notre-Dame-de-Grâce. Their expertise will be most relevant to the economic recovery challenges that lie ahead," said Mr. Coderre.
Ashley Thornton for the District of Notre-Dame-de-Grâce
Ashley Thornton is a well-known leader in Montreal and is the perfect person to help merchants and restaurateurs with appropriate solutions, especially after the difficult year they have faced. The candidate, who grew up and lives in the borough, says she is motivated to promote the small businesses that make Notre-Dame-de-Grâce so charming and unique, and to highlight the next generation of entrepreneurs through a female voice. She has put her experience as a leader to good use for several causes over the past few years and now wishes to dedicate herself to her neighbourhood as a city councillor and to bring together all the players who contribute to its vitality around the same table.
"I am very pleased to welcome Ashley to my team, a candidate who will build bridges between citizens and merchants, especially restaurant owners, to ensure that NDG shines in all its facets. She has many ideas to increase the sense of belonging that residents of Notre-Dame-de-Grâce feel towards their neighbourhood," said Perez.
Dimitra Kostarides for the Côte-des-Neiges District
With 25 years of experience in the financial services industry and a specialization in business growth and strategic planning, Dimitra Kostarides will certainly be able to assist citizens and merchants in the recovery process. Currently leading a team of 150 people as Director, she is a team player who knows how to rally people around a project. Also involved and dedicated for many years to the Hellenic community in Côte-des-Neiges-Notre-Dame-de-Grâce, Ms. Kostarides is a great fit with the unifying voice of Ensemble Montréal.
"Dimitra is a person of action; she has a real capacity to act at all levels. With her expertise and her network, she will be a great help in building bridges between the different communities of Côte-des-Neiges and in bringing pragmatic solutions to the economic recovery in order to make it as inclusive as possible," added Mr. Perez.
The nominations of Ms. Thornton, Mr. Ortona and Ms. Kostarides join those of Ms. Stéphanie Valenzuela and Mr. Sonny Moroz announced last week. They will be running for City Councillor in the Districts of Darlington and Snowdon, respectively.
"It is unacceptable that the vitality of Côte-des-Neiges-Notre-Dame-de-Grâce's main arteries has been put on hold by the current administration. Ensemble Montréal is eager to get to work to give back to the citizens the quality of life they deserve. The members of the Ensemble Montréal team for this borough are truly exceptional and I look forward to working with each and every one of them," concluded Mr. Coderre.