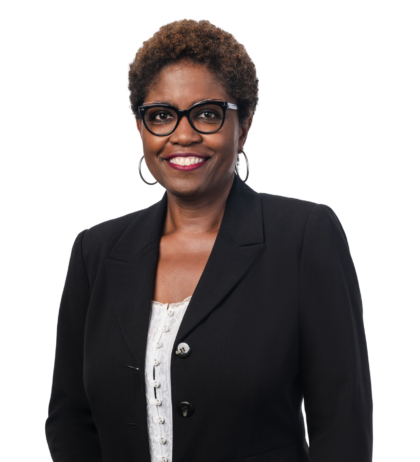 Elected official
Nathalie Pierre-Antoine
Borough councillor
Rivière-Des-Prairies–Pointe-Aux-Trembles
Rivière-des-Prairies borough
---
514 261-5768
[email protected]
Nathalie Pierre-Antoine has been a borough councillor in Rivière-des-Prairies since 2013. She considers herself fortunate to have been able to represent her fellow citizens on borough council for nearly a decade. For Nathalie, Rivière-des-Prairies is a neighbourhood with a human scale that offers the advantages of the suburbs in the city. It is this unique character that, according to her, makes this neighbourhood attractive to families and seniors in search of green spaces, quality of life and local services.
It was the desire to offer better services to citizens that led her to enter municipal politics. Although Rivière-des-Prairies has many advantages, she maintains that there is always work to be done to improve the quality of life of its citizens. The lack of public transportation as well as food deserts are two issues that concern her and that she wishes to tackle through her involvement.  
She believes that only Ensemble Montréal is capable of offering citizens the experience necessary to make Montréal a prosperous city. Furthermore, she believes that Ensemble Montréal is the only party where diversity reigns, a fundamental value needed to make Montréal an inclusive city that is adapted to the realities of all its boroughs.
"Since 2001, I have seen my neighbourhood become a better place to live. It is important for me to ensure that Montréal is a prosperous city that takes into account the particularities of its many neighbourhoods. The 2021 election gives us the chance to give Rivière-des-Prairies the place it deserves in Montréal. "
---
Professional Experience
Borough Councillor, Rivière-des-Prairies district, since 2013
Member of the Montreal's Inspector General Commission, since 2017
Member of Montreal's committee on culture, heritage and sports, 2013-2017
Member of the board of directors of the Société de transport de Montréal, 2013-2017
Member of the governance committee on ethics and sustainable development for La Société de transport de Montréal, 2013-2017
Member of the human ressources committee for La Société de Transports de Montréal, 2013-2017
Risk management advisor in a health and social services network establishment, since 2012
Planning, programming and research officer at the Laurentians Health and Social Services Agency, 2010-2012
Administrative processes specialist at the Champlain Health and Social Services Centre (HSSC), 2008-2010
Dietician-nutritionist at the Champlain Health and Social Services Centre, 1992-2008
Dietician-nutritionist at Ste-Anne Hospital, 1991-1992
Professional order
Member of the Association of Certified Directors, since 2016
Member of the professional order of dietitian of Québec, since 1991
Education
Graduate program in human ressources management, École nationale d'administration publique, in progress
Master of Public Administration, École nationale d'administration publique (ENAP), 2010
Graduate Diploma in Applied Management, McGill University, 1994
Bachelor of Science in Nutrition Science with a major in Dietetics, McGill University, 1990
Community Involvement
Host/journalist at La Télévision des basses Laurentides, since 2016
Ambassador of the 1804 school perseverance fund, 2015-2017
Member of the board of directors for a rehabilitation center for intellectual disabilities and pervasive developmental disorders, 2007-2015
Committee member for the Master of Public Administration for Managers, 2010-2011
Member of the board of directors of Charles Lemoyne Hospital, 2008
Member of the board of directors of the Champlain HSSC, 2007-2008
Secretary-Treasurer of the Champlain HSSC APTS union local, 2005-2008
Awards and Honours
Winner of Diabètes Québec's educational brochure contest (Fè Suk), 1998
Winner of the Stewart Brown prize from McGill University, for academic excellence, 1987