Borough financing: Ensemble Montréal mayors raise their voices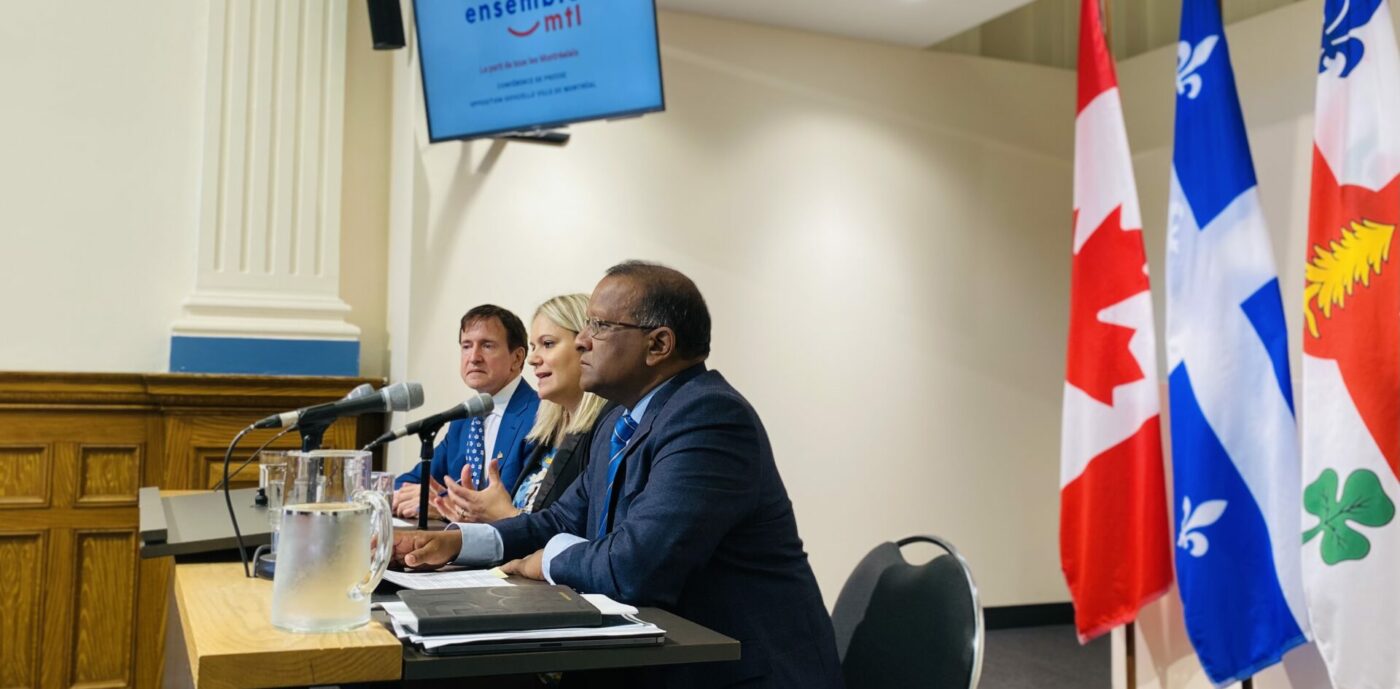 On the eve of the Sommet sur la fiscalité municipale, Ensemble Montréal mayors are once again calling for better funding from the central city. Saint-Laurent borough mayor and Official Opposition finance critic Alan DeSousa, Montréal-Nord mayor Christine Black and Outremont mayor Laurent Desbois held a press conference Wednesday at city hall to voice their concerns about their ability to provide essential services to citizens while dealing with a significant revenue shortfall.
Despite several heartfelt pleas to this effect, including a motion adopted by Montréal-Nord, Saint-Léonard, Outremont, Saint-Laurent, Pierrefonds-Roxboro and Île-Bizard-Sainte-Geneviève in the fall of 2022, their demands for more equitable indexation of transfer payments – which account for some 70% of borough revenues – have gone unheeded. The result is boroughs that increasingly struggle to cope with rising salary costs, inflation, outdated infrastructure, and population growth. They have three equally irrational choices for making up the shortfall caused by the current meagre 2% indexation of transfers from the central city: increase their local taxes, dip into their cash reserves, or reduce the services offered to their population.
To keep their heads above water, Ensemble Montréal's borough mayors are calling for central transfers to be indexed to inflation, as already recommended by the Centre interuniversitaire de recherche en analyse des organisations (CIRANO) in 2012, and for a minimum indexation of 2% when inflation is lower.
They also insist that Reform of Borough Funding (RFA) measures must be improved. In 2022, the administration stopped updating borough funding parameters and simply offered a 2% indexation. Projet Montréal boroughs benefited from this change: their central transfers increased by an average of 4.4% in 2023, compared with only 2.9% for Ensemble Montréal boroughs and 3% for independent boroughs. To alleviate this problem and ensure greater territorial equity, Ensemble Montréal mayors propose modifying and adding new borough funding parameters. For example, their need for increased resilience to climate change and extreme weather events should be better taken into account by the Montréal administration.
Finally, Ensemble Montréal urges the administration to publish the long-overdue RFA evaluation, first scheduled to be presented in 2019 and then rescheduled to October 2022, as part of the Forum sur la fiscalité montréalaise, before going any further with this reform.
Quotes
"The Municipal Tax Summit is the last hope for our boroughs. It's crucial that central transfers take our needs into account. We've barely managed to overcome the financial challenges and make up shortfalls so far, but we've been stretching the rubber band way too long. Now it's about to break."
– Alan DeSousa, Borough Mayor of Saint-Laurent, Official Opposition Finance Critic, and member of the Commission sur les finances et l'administration
"In Montréal North, we'd like to get going on updating infrastructure such as park chalets and play modules, transforming our wading pools into water play areas, and improving our facilities, but my hands are tied. We're constantly having to do more with the same financial resources, which ultimately means abandoning various projects and even cutting back on basic services to the population. This makes no sense, given that providing local services is the core of our mission."
– Christine Black, Borough Mayor of Montréal-Nord
"Boroughs are facing significant revenue shortfalls as central transfers, which account for 70% of their annual revenues, are insufficient to keep up with inflation and new challenges. Essentially, we have three choices to keep from hitting the wall: increase our local taxes, dip into our cash reserves, or cut services to our citizens. None of these three options is viable or reasonable, either for our boroughs or for the people of Montréal."
– Laurent Desbois, Borough Mayor of Outremont and Vice-Chairman of the Commission sur les finances et l'administration
"In Pierrefonds-Roxboro, we have to fight spring flooding every year and dip into our local budget to deploy mitigation measures. At the same time, I have to offer more services to our citizens, modernize our infrastructures and facilities, and redevelop our parks and green spaces. How does the administration expect us to do all this with a meagre 2% indexation? Current funding simply doesn't give us the means to meet our needs or ambitions."
– Dimitrios Jim Beis, Borough Mayor of Pierrefonds-Roxboro
"The municipal system relies on the boroughs' local adaptability. A healthy city needs strong boroughs. We often hear how Montréal is forced to assume more and more responsibilities that depend on other levels of government. Our reality in the boroughs is that we have to take on more and more responsibilities that depend on the resources granted to us by the central city."
– Michel Bissonnet, Borough Mayor of Saint-Léonard