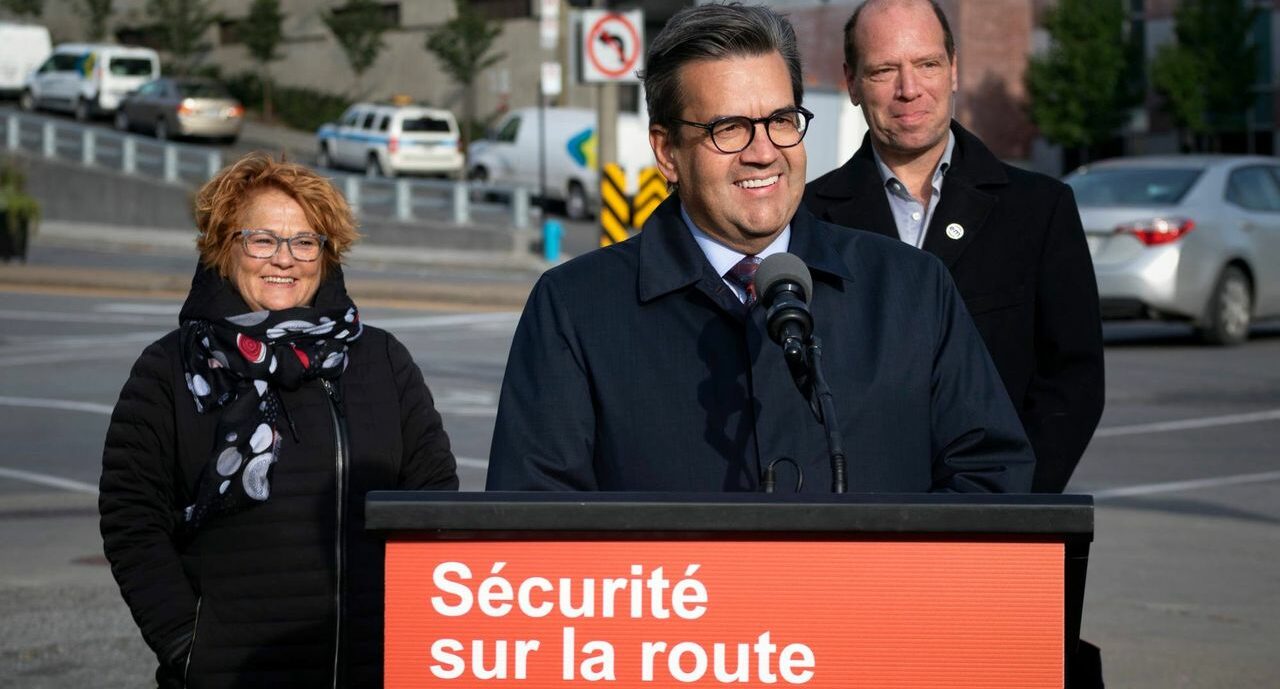 Montreal, October 27, 2021 – Montreal mayoral candidate and leader of Ensemble Montréal, Denis Coderre, presented today his plan to achieve the Vision Zero goal set in 2016. Together with his team, he pledged to give absolute priority to pedestrians, to make city streets quieter and to reduce the danger presented by trucks crisscrossing the island.
"The top priority of our Vision Zero is to protect the most vulnerable, namely pedestrians, by making each and every one of us accountable. Safety is not the business of a few, it is everyone's responsibility. We are going to give all neighbourhoods the right tools to make the entire island of Montreal safer and adopt a strategy that will enable us to respond quickly," said Mr. Coderre.
A Trucking Summit
Although the presence of trucks in the city is required to provide certain services, their risk to all citizens must be reduced. To reach this balance between the residents' safety and commercial needs, Ensemble Montréal will hold a trucking summit during the first part of its mandate. Bringing together the major players in the trucking and delivery industry as well as representatives of vulnerable people such as Piétons Québec, it will help identify the issues facing truck drivers and delivery people in Montréal and find solutions to reduce the number of heavy goods vehicles in the metropolitan area and make them safer.
This summit will also give the Coderre-Gelly administration a chance to propose a Montreal trucking standard in collaboration with the industry, which could include the requirement for trucks to be equipped with 360-degree cameras and side bars. The party also intends to encourage companies to use smaller trucks with flat-front hoods to increase driver visibility. The construction of logistics transhipment centres for smaller electric vehicles will be examined as a way to meet the challenges of city-wide delivery.
"Our goal is to ensure the safety of pedestrians and cyclists while limiting the impact on delivery drivers and truckers, who actively contribute to the economic vitality of our city. Harmonious cohabitation must come first and this requires bringing all parties around the same table and discussing concrete, effective and rapid solutions," explained Hadrien Parizeau, City councillor for the Saint-Sulpice district in the Ahuntsic-Cartierville borough.
Priority to pedestrians
The Vision Zero action plan, launched in 2016 by the Coderre administration, will be ramped up in the next mandate in a prevention, rather than reaction, perspective. To identify the most problematic intersections and to be proactive, a mobile application allowing Montrealers to notify the City of dangerous situations, such as "near misses", will be developed. With this data, in addition to data previously gathered from past accidents, Ensemble Montréal intends to proceed rapidly with the remediation of the 100 most dangerous intersections.
This approach will include railway underpasses. The Metropolitan Expressway lower sections will be redesigned to enhance their beauty with help from Montreal artists and by adding green spaces to the surrounding area.
"We will be proactive and rely on indicators rather than taking action after tragic accidents have occurred. This strategy is also in line with our desire to offer Montrealers a smart city with a very real sense of citizen engagement," explained Glenda Morris, candidate for City councillor in the Pointe-aux-Trembles district.
As announced, residents will be able to enjoy a safer environment thanks to the accelerated reprogramming of pedestrian lights, allowing for longer crossing times. A new sidewalk upkeep program will be in effect year-round, with priority given to snow and ice removal.
To view the other measures put forward by Ensemble Montréal to ensure safe circulation for Montrealers, click here: