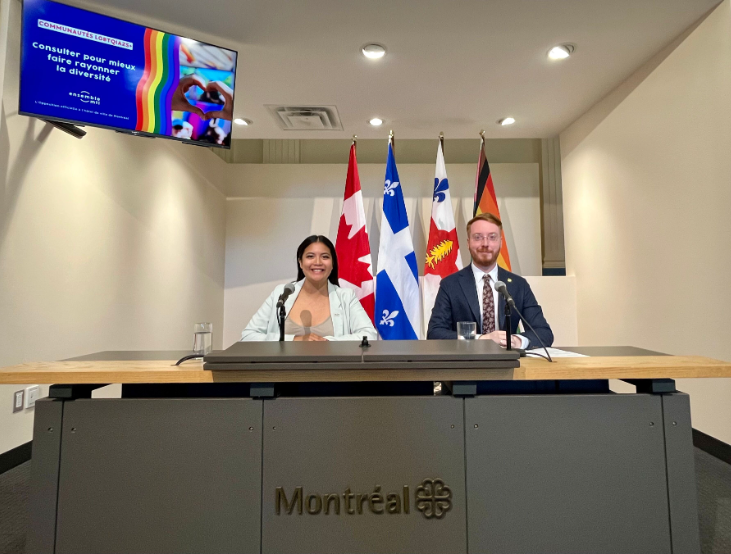 On the eve of Pride season, Ensemble Montréal is calling for the creation of an LGBTQIA2S+ advisory committee for the city of Montréal. Tétreaultville district City Councillor Julien Hénault-Ratelle and Darlington district City Councillor Stephanie Valenzuela, supported by Peter-McGill district independent City Councillor Serge Sasseville, hope to better include members of sexual and gender minorities in the municipal administration's decision-making processes and projects.
Made up of citizens and representatives of LGBTQIA2S+ organizations, the committee's mandate will be to advise Montréal on planning and executing actions affecting members of their communities. The committee would also be able to address various major initiatives touching on specific projects and issues of concern.
Ensemble Montréal recalls that the proposed advisory committee is one of the recommendations made during the "Consultation of LGBTQ+ communities in Montréal" conducted in 2019 by the Institut du Nouveau Monde (linked report in French). The party hopes this proposal will lay the groundwork for implementing the report's other recommendations, including an action plan to better address the needs of the LGBTQIA2S+ communities.
Recall that, in 2018, the Official Opposition proposed creating the position of Commissioner for the LGBTQIA2S+ communities, responsible for bridging the gap between communities, their members and the municipal administration, as well as defining and ensuring the application of a municipal sexual diversity policy. Although this request was denied, the Councillors hope that City Council members will unite their voices to support this new proposal for the benefit of the communities and diversity for which Montréal is renowned.
A motion to this effect, requesting that a transparent and inclusive appointment process be launched quickly, will be tabled at City Council on June 12.