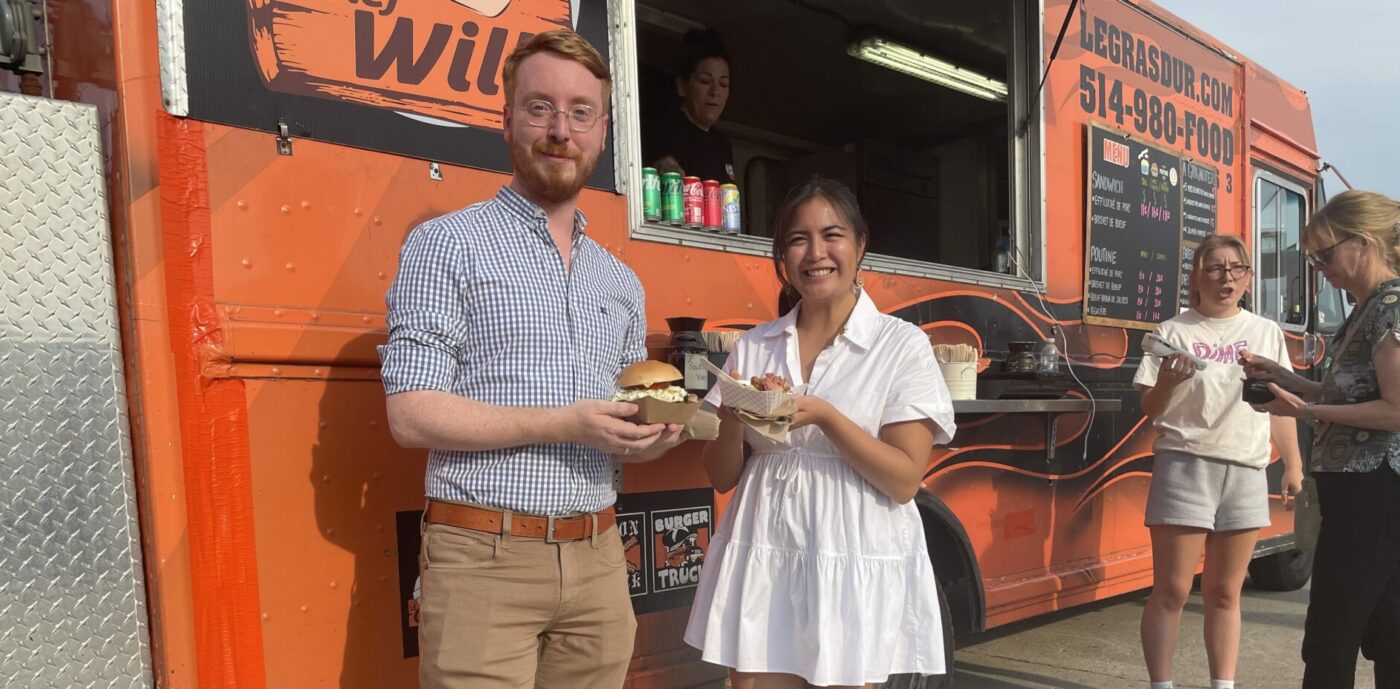 Stéphanie Valenzuela, Official Opposition critic for diversity, and Julien Hénault-Ratelle, Official Opposition critic for economic development, presented measures on Monday morning to promote street food in Montréal. Gathered at the entrance to the Old Port, Ensemble Montréal's city councillors announced they would be tabling a motion at the next city council meeting to have street food recognized as a cultural activity in its own right in Montréal's by-laws. This initiative would allow an increase in the number of food trucks during events and at pop-up neighbourhood markets across the metropolis without the need for artistic programming, as required by current regulations.
"We want street food to be part of Montréal's identity and culture. We want to offer our restaurateurs the opportunity to organize events where the public can discover our internationally-recognized creative gastronomy, which reflects our rich cultural diversity," pointed out Stéphanie Valenzuela, city councillor for the Darlington district in Côte-des-Neiges–Notre-Dame-de-Grâce.
To incite growth in street food initiatives, Ensemble Montréal is also proposing better support for those who are the driving force behind them: the Association des restaurateurs de rue du Québec, which has 73 members representing some 100 street food trucks, of which about 40 operate in the Montréal area. The city, in collaboration with the Office montréalais de la gastronomie, should enter into three-year rather than one-year funding agreements, to provide the organization with greater financial stability and predictability. 
The party also believes that Montréal would have the opportunity to kill two birds with one stone by installing dedicated electrical connection points for street food trucks in the locations they use every year. In addition to making their setup easier, this measure would reduce the need to use gas generators.
"Street food is great for promoting our diversity and culture, but it's also good for business! It directly encourages the vendors, it's more affordable for citizens, it's practical, it expands our commercial, gastronomic and tourist services, it attracts people… everyone wins!", said Julien Hénault-Ratelle, city councillor for the Tétreaultville district, located in Hochelaga-Maisonneuve.
Finally, to make street food a more integral part of Montréal's identity, Ensemble Montréal is asking that the Office montréalais de la gastronomie be mandated to draw up an action plan to accelerate and promote it over the medium and long term. This plan should be drawn up by 2024 in collaboration with stakeholders.