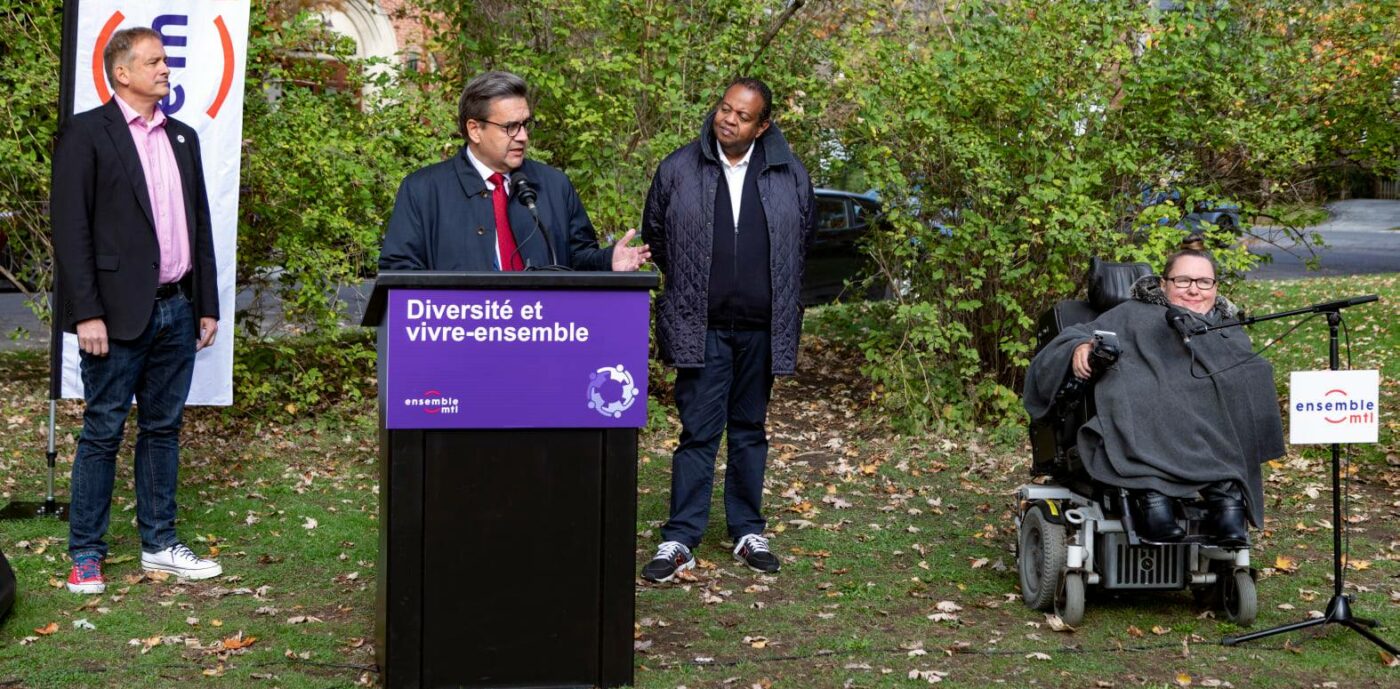 Montreal, October 24, 2021 – The leader of Ensemble Montréal and candidate for mayor of Montreal, Denis Coderre, and his team presented today their plan to make the metropolis a more inclusive and welcoming city. The party is committed to implementing the 38 recommendations on systemic racism and discrimination of the Office de consultation publique de Montréal (OCPM) and to making the City of Montreal more representative of its diversity.
"The City of Montreal and its elected officials have recognized the systemic nature of racism and discrimination and are committed to fighting it, but still have a long way to go to promote harmonious coexistence. As a local administration, our mission must be citizen-centred, leaving no one behind. Not only do we need to change our policies and practices, but we also need to review our approach to governance," said Coderre.
A representative public service
Currently, only 21% of the City of Montreal's 25,000 employees belong to visible or ethnocultural minorities, even though they comprise 33% of Montreal's population. In addition, no visible minorities have been hired as managers in the last three years under the current administration, a problem highlighted by the OCPM report on systemic racism and discrimination. The Coderre-Gelly administration will ensure that the City leads by example in terms of diversity by posting job openings, internally and externally, at the same time. This will be done through a letter of consent to comply with collective agreements and will allow access to a larger pool of potential candidates who are more representative of our city's diversity.
To ensure a work environment free of all forms of discrimination for City of Montreal employees, an independent and anonymous whistleblower line will be put in place as proposed by the party during the OCPM public consultation in October 2019.
"Ensemble Montréal aims for a municipal public service that is representative of Montreal society in terms of its diversity. The more we encourage contact between communities and open ourselves up to diversity, the more we will be able to set an example and eliminate persistent systemic biases in the City and elsewhere," explained Gabriel Retta, candidate for the position of City Councillor in the district of Loyola, in the borough of Côte-des-Neiges-Notre-Dame-de-Grâce.
Prioritizing universal accessibility
Recognizing that all Montrealers should be treated equally, the party will systematically integrate universal accessibility measures into all of the City of Montreal's programs and new public facilities. The universal accessibility clauses of all snow removal contracts will be reinforced and the amounts set aside for snow removal programs for people with reduced mobility will be doubled for a total of $380,000 per year, which will enable all boroughs to benefit from it.
In addition, the Montreal Transit Corporation will be required to verify the functionality of universal accessibility ramps before every bus departure and to accelerate elevator construction throughout the Metro system.
"In recent years, too many people have been confined to their homes because sidewalks were not cleared. One wonders how that is even possible in 2021. While some speak highly of the Montreal of tomorrow, when it comes to universal accessibility, we are still stuck in the Montreal of yesterday", said Lise Poulin, candidate for borough councillor in the Canal district of Lachine.
Montreal: an LGBTQ2+ City
While Montreal is known for its openness, its proud LGBTQ2+ community and its unique Village, it is dispiriting to see their vitality being undermined lately. The Coderre-Gelly administration will work to put the sparkle back into the neighbourhood by addressing urban health, cleanliness and safety issues, and by supporting the LGBTQ2+ community in finding premises and organizing events. The latter can also count on a firm commitment from the party in the creation of a commemorative site celebrating the milestones of cultural, sexual and gender diversity, as requested by a local association since 2019.
"We want Montreal to be once again an LGBTQ2+ destination. Of course, we're going to make sure that the Village regains its vibrant and festive spirit, but the community is not just one neighbourhood. It must reach out to all the boroughs," said Daniel Vaudrin, candidate for City Councillor in the Sainte-Marie district.
Finally, Ensemble Montréal will ensure that everyone has a voice within the public service, to achieve respect for diversity in its various forms, by creating new commissioners, one for universal accessibility and one for the LGBTQ2+ community, which is still frequently a target of discrimination across the city.
These measures complement several others already presented by Ensemble Montréal to return harmonious coexistence to the forefront. To consult them, click here: