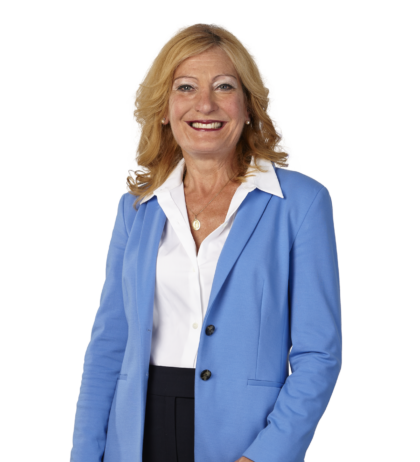 A businesswoman and mother of three daughters, Angela Gentile was born and raised in the beautiful borough of Saint-Léonard. Daughter of Italian immigrants who settled in Montreal for a better future, she says she is grateful for their sacrifices and determination. It is thanks to them, among other things, that today she can think about having a place at City Hall.
"I have always held Saint-Léonard in my heart. I took care of my family for twenty years, now I want to take care of Saint-Léonard. "
Involved in the economic and social life of the borough for many years, she describes herself above all as a woman who wants to improve things in a pragmatic and concrete manner. Being a borough defined by its ethnocultural mix, she wishes to ensure that all residents can live in harmony, regardless of their origins.
She feels it is important to work to maintain the family character of Saint-Léonard. Angela is proud that her fellow citizens have access to beautiful green spaces, good schools, local businesses and good services. She is clear, however, that more needs to be done to retain our youth and attract others.
Labour mobility, support for industries and businesses, revitalization of Jean-Talon Street and safety for youth and seniors are the issues she wants to prioritize if elected on November 7.
Angela also believes that Montreal needs a more rigorous and transparent citizen consultation process. She believes that the voice of citizens and business owners must always be heard.
Finally, she is excited that the citizens of Saint-Léonard Est will be able to elect their next representative to City Hall. "It has been almost two years since the citizens have had a city councillor. An election could have been held last year during the summer, but the administration chose otherwise. So let's get ready for next November! "