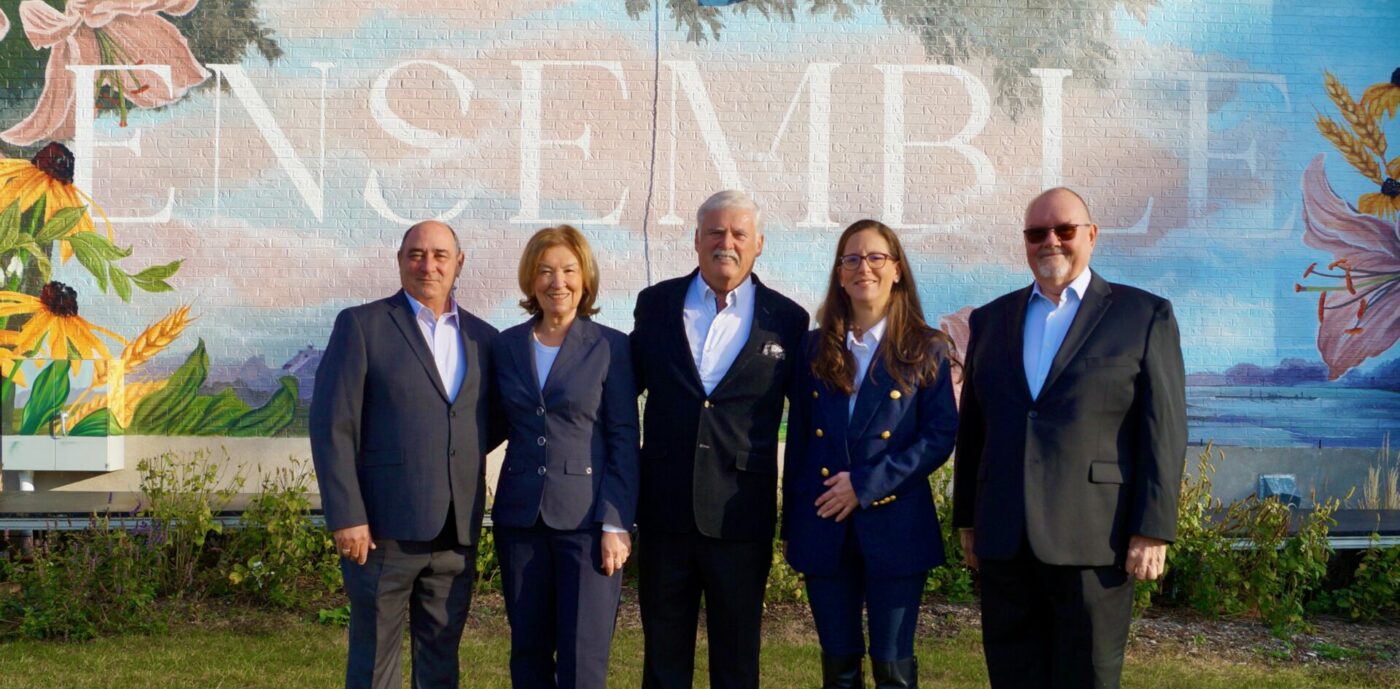 Photo (left to right): Richard Bélanger (borough councillor, Jacques-Bizard district), Suzanne Marceau (borough councillor, Sainte-Geneviève district), Doug Hurley (mayor candidate, L'Île-Bizard-Sainte-Geneviève), Danielle Myrand (borough councillor, Pierre-Foretier district) and Alain Wilson (borough councillor, Denis-Benjamin-Viger district)
The leader of Ensemble Montréal, Aref Salem, announced Tuesday morning at a press conference that Doug Hurley will run for mayor of Île-Bizard–Sainte-Geneviève under the party's banner in the by-election to be held on December 17. This borough resident, who has had the privilege of serving the population with the Service de police de la Ville de Montréal (SPVM) for over 30 years, is the right person to represent and respond to the needs of residents and merchants.
"I'm delighted to welcome Doug Hurley, a man who perfectly embodies Ensemble Montréal's values of listening, respect and fairness. He's someone who lives in the borough since 37 years, who knows his community inside out, and who has the leadership to represent it at City Hall and deliver good governance to citizens," said Mr. Salem alongside Mr. Hurley and the team of local councillors comprising Ms. Danielle Myrand, Ms. Suzanne Marceau, Mr. Richard Bélanger and Mr. Alain Wilson.
In addition to a rich career with the SPVM, first as a police officer, then as an intervention officer and commander in the criminal investigation division, Mr. Hurley is a teacher in John Abbott's police technology program. Aware of the importance of community spirit and a sense of belonging, he has also served as president of the Île-Bizard Optimist Club. During his tenure, he organized, among other things, local food drives and helped citizens overcome the floods of 2017 and 2019. This is in addition to his involvement as a coach for various sports clubs in the borough.
It is his desire to bring the community together, to offer greater safety to residents, and to preserve and perpetuate the borough's agricultural and cultural heritage, that motivates him today to present his candidacy for mayor. Doug Hurley is looking forward to fulfilling this mission while providing basic services alongside local elected officials committed 24/7 to their communities, even when this means having both feet in the water during the most difficult times.
"Helping others has always been a driving force in my life. Whether it's through my career or my community involvement, I've always made it my duty to be there to meet citizens' needs, to give a helping hand to those in need, to help my community cope with flooding and to encourage young people to pursue their dreams. I want to take my commitment further by representing L'Île-Bizard–Sainte-Geneviève, giving it a strong voice and defending its citizens at Montreal City Hall," said Doug Hurley.