Honouring a Montreal Jazz Legend : Ensemble Montréal proposes that the name of Place des Festivals be changed to "Place Oscar-Peterson"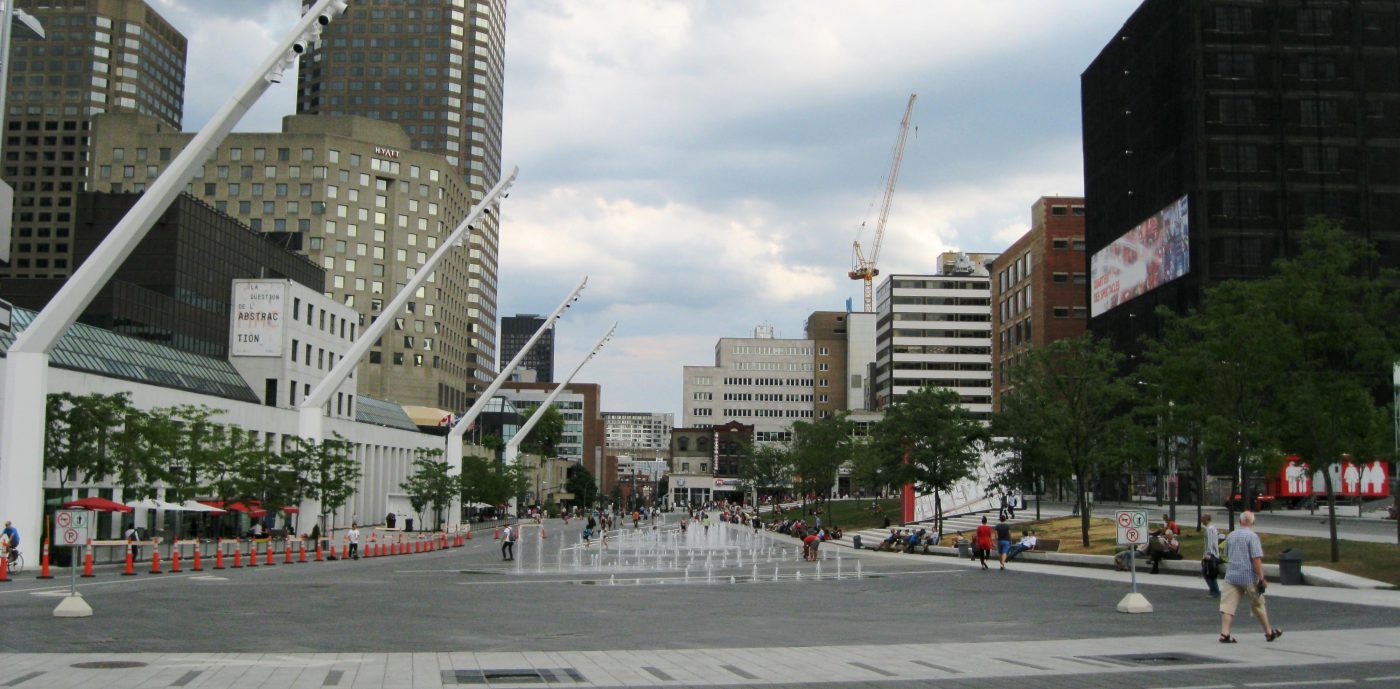 Montreal, October 7, 2020 – In a motion to be tabled at the October Municipal Council meeting, Ensemble Montréal will propose that Place des Festivals in downtown Montréal be renamed after Oscar Peterson, as a tribute to this world-renowned Montréal pianist and composer.
Born in 1925, Oscar Peterson's career extended over more than 60 years, during which he made more than 200 recordings and won many awards including eight Grammy Awards. He passed away in 2007.
"It's the least we can do to honour such a jazz legend, a man considered to be one of the greatest jazz pianists of all time. This Montrealer by birth, raised in the Little Burgundy neighbourhood with his brothers and sisters, richly deserves his place in Montréal's toponymy, in thanks for all the prestige he bestowed upon our great city and on Montréal's Black community", declared Leader of the Official Opposition Mr. Lionel Perez.
Place des Festivals, inaugurated in 2009 and situated on Rue Jeanne-Mance between Boulevard De Maisonneuve and Rue Sainte-Catherine, is closely tied to the Montréal International Jazz Festival (MIJF), where Oscar Peterson performed many times before his Montréal fans. In fact, the MIJF created an annual Oscar Peterson Award in 1990 to "recognize a performer's musicianship and exceptional contribution to the development of Canadian jazz."
"Linking my husband's name with this marvellous, world-renowned Montreal Jazz site is fantastic. Montreal is his hometown. This is where he learned to play the piano, where he gave his first concerts. Montreal was the springboard to his exceptional international career, and the city he proudly recognized throughout his life. I'm so very grateful for the efforts being made to honour his memory and his legacy with dignity. Oscar would be deeply humbled and honoured to be remembered in this way", said his widow, Mrs. Kelly Peterson.
Ensemble Montréal's initiative comes as the result of a grass-roots movement that in recent months has called for the City of Montréal to give greater recognition to virtuoso Oscar Peterson's achievements. Launched early this summer by Mr. Naveed Hussain, an online petition requested that the Lionel-Groulx metro station, located in Little Burgundy, be renamed "Oscar Peterson." The petition amassed over 27,000 signatures, but the author's request was refused by the City and the Société de transport de Montréal (STM).
"Oscar Peterson deserves recognition equal in stature to his achievements, and to the sense of pride he brought to Montrealers and the Black community in particular. That's why I enthusiastically support Ensemble Montréal's proposal to associate his name with one of downtown's most visible locations. This being said, I will continue my own efforts so we can also truly honour him in his home neighbourhood of Little Burgundy," remarked Mr. Hussain.
The motion will be debated at the Municipal Council's October 19 session.
---
Motion to rename Place des Festivals in honour of Montréal virtuoso Oscar Peterson
Whereas Oscar Emmanuel Peterson, world renowned jazz pianist and composer, was born in Montréal in 1925 and has contributed to the worldwide artistic and cultural renown of our great city, and his legacy still resonates today;
Whereas in the course of his over-60-year career, Oscar Peterson made more than 200 recordings, gave thousands of concerts and won many awards, including eight Grammy Awards and has also received Canada's and Quebec's highest civilian honours;
Whereas in 2009, the current administration at the time renamed a park in the Sud-Ouest borough in honour of celebrated musician Oscar Peterson, and by the same action, honoured the entire Black community of Little Burgundy, in which district the virtuoso grew up;
Whereas the toponymy of a city has a strong symbolic content, since it testifies to the involvement of a person, or even an entire community, in its development;
Whereas, in solidarity with the Black community, which has enriched and continues to enrich Montréal's cultural diversity, the City of Montréal owes this notable person a greater honour;
Whereas on June 23, 2020, a resident launched an online petition to rename the Lionel-Groulx Metro station after Oscar Peterson, and that so far, the petition is supported by nearly 26,000 residents;
Whereas at its inauguration in 2009, Place des festivals in downtown Montréal became the epicentre of the Festival International de Jazz de Montréal, a world-famous event that celebrated its 40th anniversary in 2019;
Whereas Oscar Peterson was and is still an integral part of the Festival International de Jazz de Montréal through, among other things, the creation on their 10th anniversary in 1989 of the Oscar-Peterson Award;
Whereas in renaming Place des Festivals in the name of Oscar Peterson, the City of Montréal will once again pay tribute to the virtuoso and more broadly reflect the contribution of the Black community to the development of Montréal;
It is proposed by Lionel Perez, leader of the official opposition and City councillor for the district of Darlington;
And seconded by Josué Corvil, City councillor for the district of Saint-Michel, and Chantal Rossi, City councillor for the district of Ovide-Clermont
That the Municipal Council adopt a resolution to rename Place des Festivals in the Borough of Ville-Marie as "Place Oscar Peterson" in honour of the celebrated Montréal pianist and of the Montréal Black community which has contributed and continues to contribute to the cultural, artistic, socio-economic and heritage wealth of the City of Montréal.