Extension of Parking Pricing Schedules: Ensemble Montreal asks the administration to reconsider its decision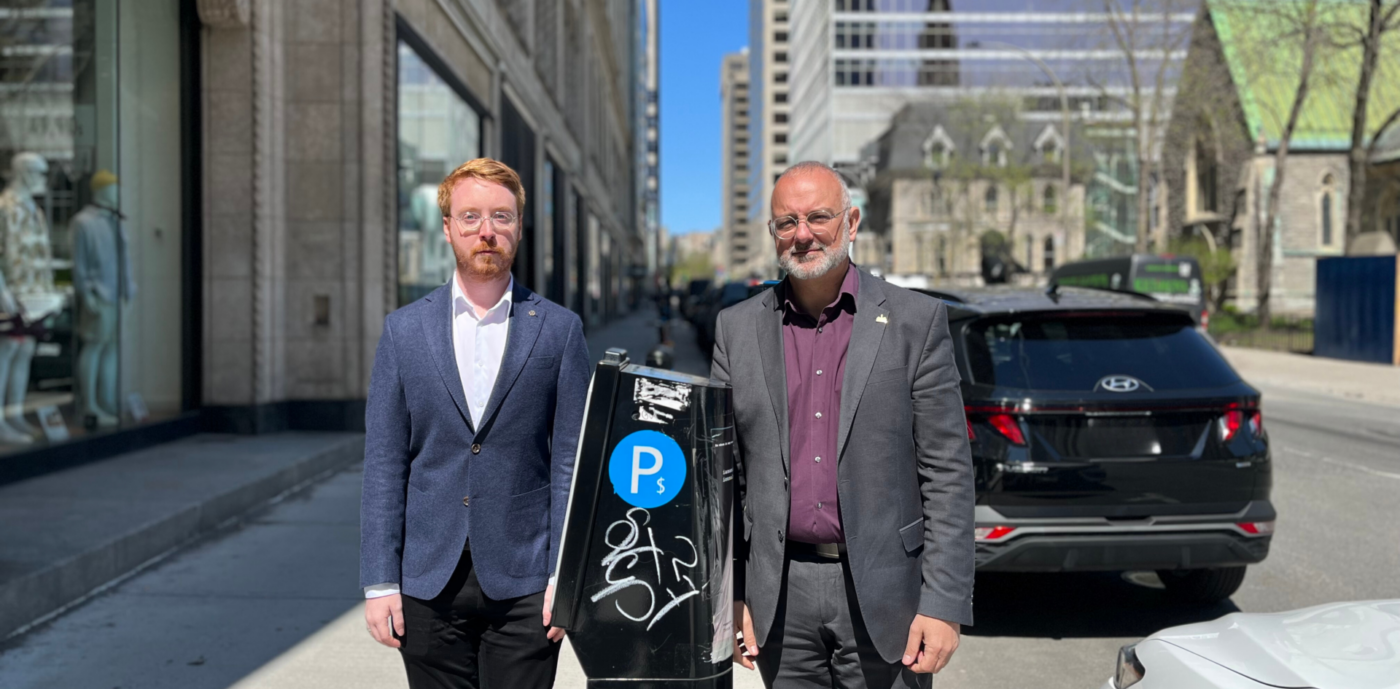 In light of the mess surrounding the paid parking hours, Ensemble Montréal is asking the administration to reconsider its decision. The Leader of the Official Opposition at Montreal City Hall, Mr. Aref Salem, and the Official Opposition Critic for Economic Development, Mr. Julien Hénault-Ratelle, announced during a press conference Monday morning that they will ask, during the City Council of May 15, that the By-law concerning fees be amended so as to reinstate the paid parking hours of 2022.
"The administration deserves a fine for the way it's handling the extension of parking meter hours. If it really wanted to consult its partners, it would have done so before voting for the change in the budget, not after the fact… The administration may say that it's a simple mess and that it will do things in the right order, but the reality is that they tried to pull a fast one on Montrealers. They already made up their mind, now they just have to figure out how to impose this on merchants and boroughs," said Mr. Salem.
As proof, the administration did not respond to the request of the SDC Montréal Centre-Ville to hold a one-year moratorium on all changes relating to paid parking hours downtown. The administration instead decreed a moratorium of only two weeks. Faced with such a strong wave of dissatisfaction and in such a short timespan, the administration would have decided that the moratorium will now last until the end of the summer.
Moreover, the sneaky, private manner in which numerous changes were carried out undermines the transparency, accountability and respect for the democratic and decision-making bodies of the City of Montreal. It should also be noted that an amendment was adopted at the City Council meeting held last August to the effect that the boroughs must be consulted before any change in parking meter pricing. By not respecting this will and resolution of City Council, Projet Montréal is going against municipal democracy. Ensemble Montréal stresses as well that a moratorium should specify for how long it is in effect for, which is not the case at the moment.
"This is the first time Montreal has seen a moratorium with no set duration. It is a non-transparent and piecemeal way of governing. The application of a by-law cannot and must not be done at will when the administration feels that it has made a bad decision. This sets a dangerous precedent," laments Julien Hénault-Ratelle.
For Ensemble Montréal, there exists only one option if the administration wants to ensure that it respects both its partners and our municipal democracy: agree to amend the By-law concerning fees so as to restore last year's paid parking hours.